М.А.Ermekov Geological museum
M.A.Ermekov Geological Museum is located in the 2nd academic building, on the second floor. The geological Museum is the coeval of University and from formation of Karaganda Polytechnic Institute at Department of Geology minerals and rocks were gathered by crumbs not only from Kazakstan ores, but also from all former Soviet Union.
There are samples from the fields of oil, rare and non-ferrous metals, non-metallic raw materials of Russia, Azerbaijan, Armenia, Turkmenistan, the Ukraine and etc in collection of geological museum.
Head of department professor Samsonov B.W., professor Bilyalov B.D., teacher Ryabuschenko L.P. made great contribution to creation, processing and replenishment of the collection of the Fund. Ryabuschenko was repeatedly sent to Geological Museum of the Geological Institute of Academy of Sciences of the USSR (Moscow) and Ural mineralogical reserve (Mias, Chelyabinsk region), where the most representative samples of all classes of minerals were selected, as well as the most representative rocks, formed in the subsoil and on the surface of the Earth, so in the collection Fund of the Museum there are unique samples of minerals and rocks.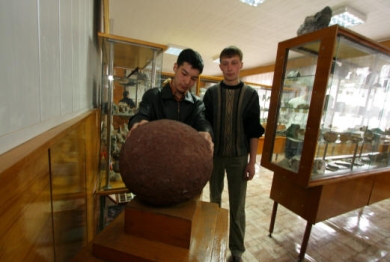 Systematized minerals on classes are presented from eight cases of the museum with two-sided view of samples in three fully and partially in fourth. As part in the fourth and the fifth case were presented representatives of igneous, sedimentary and metamorphic rocks, i.e. divided by origin. Minerals for industrial use: ferrous, nonferrous and alloy metals, ceramic raw materials, construction materials, and flammable minerals.
At present time collection fund of the museum replenished with the graduates of Department with the fields in which they work and students with facilities for practical training.
The geological Museum of the Department is used in the study of geological disciplines by students of geological, geophysical, mining and construction specialties. In addition Museum is visited by schoolchildren of Karaganda, Temirtau and other cities-satellites, and is also involved in the time of the career-guidance work among secondary school graduates.