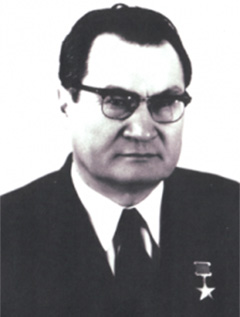 Abylkas Saginovich Saginov
Academician of NAS and АЕН of the RK, Doctor of Engineering Sciences, Professor, twice laureate of State prize of KazSSR, Hero of Socialist Labour, 1955-1987 – rector of KarPTI.Abylkas Sagiovich Sagiov
Abylkas Saginovich Saginov was born in 1915 in Bayan-Aul of Pavlodar region.
Abylkas Saginovich Saginov began his labour activity in 1931 as motorman on Uspensk mine of trust "Pribalkhashstroy". Next year he entered Karaganda mining technical school and soon in a number of groups of students is sent to Artem Dnepropetrovsk mining institute. After graduation and till 1988 A.S.Saginov had worked on mines of Karaganda mining basin as Head of sector, senior engineer, Head of mine, Head of technical department of coal trust. During 1948-1951 was Head of Gosgortechnadzor Administration of Karaganda region, senior engineer of trust "Karagandauglerazrezy".
In 1951 A.S.Saginov defended dissertation for academic degree of Candidate of Engineering sciences on theme "Modern condition of development of low and average power of layers in Karaganda basin and their analysis and prospects of development".
In 1951 A.S.Saginov was appointed as Head of Karaganda branch of All-Union scientific-research coal institute (ASCI), transformed under his guidance in 1952 into Karaganda scientific-research coal institute (KSRCI).
In 1955 A.S.Saginov was appointed as Head of Karaganda mining institute, transformed into Polytechnic institute. He had worked as rector for 33 years, at the same time managing department of development of mineral resources deposits.
1958 – assigned title of Professor.
1961 – was elected as Corresponding member of Academy of Sciences of Kazakh SSR.
1970 – was elected as an academician of Academy of Sciences of Kazakh SSR.
In 1971, for great merits in development of higher education and training of qualified specialists for the national economy A.S. Saginov was awarded with title of Hero of Socialist Labour with giving Order to Saginov in membership of author staff in 1974 was awarded State prize of Kazakh SSR in the sphere of science and technique as leader of the work "Development of theory and creation of hydraulic machine of shock action for mining and construction fields of Kazakh SSR" as well as in membership of author's staff. 50 candidate and 11 doctoral works were successfully defended under his scientific guidance.
In 1933 with solution of Karaganda municipal Council of people's deputies for great contribution in the field of science and technique, development of Karaganda coal basin and personnel training for national economy A.S.Saginov was awarded with the title "Honourary citizen of Karaganda".
His merits in development of national economy of the SSSR and republic, higher education and science were repeatedly marked with governmental awards – six orders and medals.
By order of President of the Republic of Kazakhstan N.A.Nazarbayev in December 1995 A.S.Saginov was assigned title "Honoured Scientists and technique of the Republic of Kazakhstan".