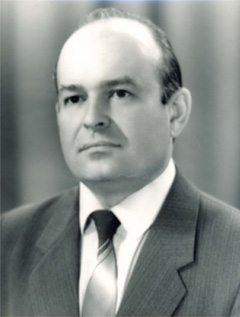 Piven Gennady Georgiyevich
Piven Gennady Georgiyevich was born in 1945 in Karaganda.
Doctor of Engineering Sciences (1986), professor (1988), academician of Natural Sciences Academy of the RK (1996), academician of Engineering Academy of the RK (1997), member-correspondent of MSA HS (1995). He graduated from Karaganda Polytechnic Institute in 1967 on specialty "Technology of machine building, metal-cutting machines and tools". He worked ai machine building factory as senior engineer-technologist6 then more than 30 years at Karaganda polytechnic institute, passing way from assistant to professor.
In 1971 defended dissertation for academic degree of Candidate of Engineering Sciences. During 1971-1983 he had worked as associate professor of Theoretical Mechanics Department. From 1983 –Head of Technology of machine-building Department.
In 1986 defended dissertation for academic degree of Doctor of Engineering Sciences in Institute of Automation of SA of Kirgiz SSR.
Theme of doctoral dissertation: "Structural-parametric analysis and synthesis of hydrovolumetric power systems and mining machines".
In 1994 – rector of Karaganda polytechnic institute.
In 1996 was affirmed as rector of Karaganda state technical university.
The main area of scientific research is connected with the problems of machine building.
The author of 3 monographs, more than 60 author's certificates on inventions, more than 190 scientific and educational-methodical works in the field of mining engineering and modelling of the dynamics of complex systems and the certificate for the objects of intellectual property «Forecasting the development of the machine-building complex in the Republic of Kazakhstan». Professor Piven developed the theoretical basis for creation of a new class of hydrovolumetric power systems of mining machines, which received a wide application in many branches of a national economy of Kazakhstan.
Exceptional scientific importance and usefulness of a cycle of researches was carried out by the Republican centre on forecasting of machine-building complex of the Republic of Kazakhstan, the head of which was approved Professor Piven G.G.
Piven G.G. is a member of the Special Council on protection of doctor's and candidate's dissertations, Chairman of Board of educational-methodical Association on 16 fields of engineering, editor-in-chief of magazine «Informatics and automation», member of the editorial Board of magazine «Herald of the higher school of Kazakhstan», Chairman of Karaganda branch of Engineering Sciences Academy of the RK, President of Association of technical universities of Kazakhstan, Urals, Siberia, Uzbekistan, Kyrgyzstan, and Tajikistan.
Evidence of his widespread fame serves as election him as a member of Academy of natural Sciences and Engineering Academy of the RK. He is excellent in national education of the RK, awarded with medal of VDNH of the USSR, sign "Winner of НТТМ», diploma and Honourary certificate of the exhibition of economic achievements of KazSSR, diplomas and gratitude letters of Ministry of Education of the RK.