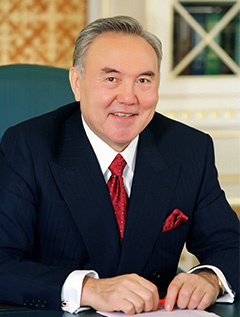 Nursultan Abishevich Nazarbayev
N.A.Nazarbayev's years of study at KSTU. (according to historical documents of KSTU's museum)
The most interesting exhibition of materials about life and activity of the First President of Kazakhstan Nursultan Nazarbayev was presented in historical museum of the university. Special attention is drawn to student years and beginning of the career of the future President.
After finishing ten classes in high school named after Abai (village Kaskelen of Alma-Ata region) N.Nazarbayev had read in Republican youth newspaper «Leninskaya Siena» appeal of Central Committee of Komsomol for boys and girls with their own hands to build Kazakh Magnitka and decided to respond to the appeal. Nursultan had worked in Alma-Ata in one of the banks as watchman for three months to get to Temirtau. He crossed way from native Chemolgan to far Temirtau for that earned money. In September, 1958, Nursultan Nazarbayev arrived in Temirtau. In November of the same year, as a young and potential worker he went to study at technical school of Dneprodzerzhinsk of the Ukrainian SSR with the aim of mastering a major metallurgical work, needed at that time intensely, to Karaganda metallurgical plant – tapper of the blast furnace.
Studying in a college took a lot of time, but Nazarbayev N.A.participated actively in the public life of college – he elected two times as a member of Komsomol Committee, awarded with diplomas of Komsomol Committee of Dneprodzerzhinsk twice, as a skilled organizer of the youth, capable to lead it to the accomplishment of the objectives in time before students of the College on training highly skilled workers. Perseverance enabled him to master all the disciplines on excellent marks of chosen specialty.
After passing final exams for «excellent» and getting certificate with high honours of the blast furnace second tapper of the eighth category Nazarbayev N.A. came back in 1960 to Temirtau to work at Karaganda metallurgical factory, where was acute shortage in highly qualified employees at that time, including on related specialities.
This caused N.A.Nazarbayev's need in mastering specialty of pourer of iron foundry machines, where he showed his outstanding abilities, integrity, discipline and hard work.
The thirst for knowledge, a desire to master knowledge more deeply in the field of metallurgy of led N.A. Nazarbaev to the necessity of training in a higher educational institution. Karaganda metallurgical plant experienced an acute shortage of the engineering cadres and knowing diligence of a young, promising worker sent him to study at Karaganda Polytechnic Institute with a monthly payment of scholarship for the account of plant.
Karaganda Polytechnic institute was developing rapidly those years and raised under A.S.Saginov's guidance and was one of the leading technical universities of the Republic, which considered it own responsibility to train highly skilled specialists.
In 60th years engineering staff training system was rather different from present one. Nursultan Nazarbayev was enrolled in group FP – 62-2 (foundry production of ferrous and non-ferrous metals), which formed from students who lived in Temirtau and in group FP-62-1 were students from Karaganda.
At that time technical universities changed on combination of education with productive labour. Learning was held on system "DV" – student worked on production and studied at institute during two years. Such system gave a large benefit in the sense of development of practical side of specialty. Work and study at Institute, of course, was very, very difficult. Nazarbayev N.A. remembers «…What is tapper's labour? – a heavy crowbar to break scrap, and broad shovel to remove it. Inside it- hell, temperature of about two thousand degrees. Also there was gas and dust. Pounding was terrible. You are always near the flame, for the change drink half bucket of salt water and the same amount drain from you. Many people's noses bleed because of heat and pounding…». Not all students withstand a combination of hard, exhausting work and study at Institute, but experienced instructors, teachers did everything to ensure training of highly qualified engineering personnel. Dean of mechanical-technological faculty and head of the Department of foundry production was Evgeny Ivanovich Shevtsov, Professor, laureate of State prize of the USSR, whom Nursultan Nazarbayev subsequently, occupying high positions, called his scholar.
The future President was distinguished with mental ballast, and integrity, friendly mutual help, ability to persuade, an uncanny ability to analysis and argumentation. And very friendly atmosphere in the training team had to ensure that strong of knowledge and life experiences of students helped the poor and the young.
Active participation of Nursultan Nazarbayev in public life was expressed in sport competitions: team games for the faculty and Institute of football, basketball, volleyball, table tennis, he was a good boxer.
In the students ' construction detachment he was a foreman and a supervised 0construction of the object. His analytical mind, ability to generalize, to private fact seeing a whole, already at that time drawn the attention and distinguished him from the total mass of peers. That's why Nursultan was respected by peers, that his opinion was balanced and reasonable.
Already in those years were observed extraordinary personal data of the future President. One case. Being the leader of a student construction team and structure of the object in the state farm «Baluktygulsky» Nazarbayev N.A. actively defended the interests of their comrades, provided the construction with all the necessary building materials: brick, sand, cement etc., at that time it was incredibly difficult. These materials had to «knock out» from supply organizations. Due to his strength and determination, as a leader, the construction was completed in a timely manner and with high quality.
He was distinguished from other peers primarily with purposefulness, persistence, high requirements to himself, keen thirst for new, ability to communicate the work to its completion and already in the young years of experienced people guessed the traits of the leader, anticipating his great future.
Especially it was easy for him to made public discipline, which he always passed only on «excellent»: «History of the Communist party», «Dialectical materialism», «Philosophy», «Political economy». He is always aware of the audience knew the subject, conducted dialogues interestingly. Nobody could compare with him on power and logic of proofs.
Nazarbayev N.A. studied at Karaganda Polytechnic Institute for 3 years (1962-1965), i.e., before his transfer to the newly organized in Temirtau Plant "Plant HTI", in which he received diploma of engineer-metallurgist.
Extraordinary personal data and fundamental higher education received by Nazarbayev N.A., was the foundation on which it was effected as formation of a personality, as a future President, the leader of the state, perfectly possessed a wealth of knowledge in many fields of human activity, political, economic and production.